4 tips for achieving Organizational Effectiveness
Read these tips to better understand & apply Organizational Effectiveness in your business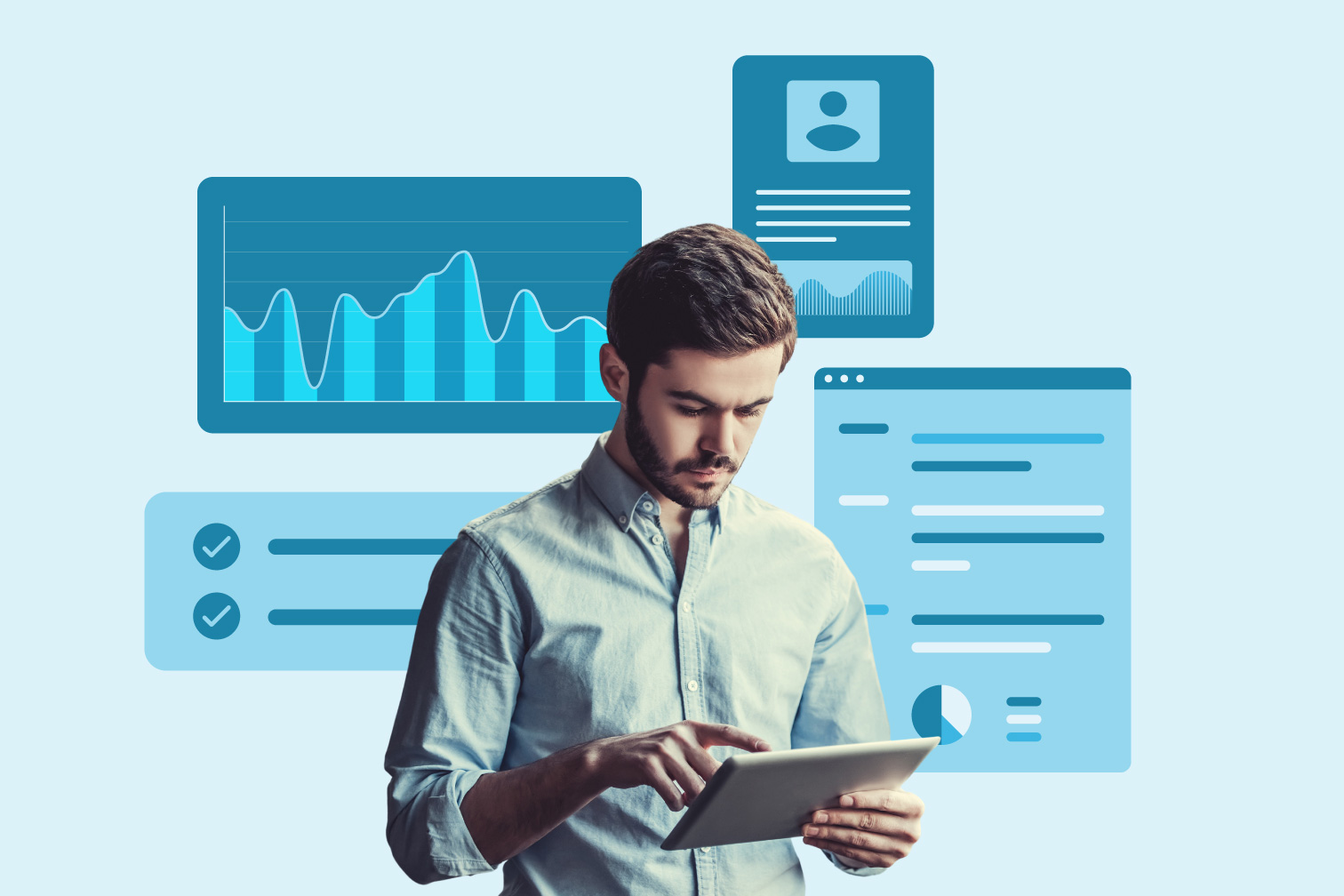 What is organizational effectiveness? It seems obvious, and could easily be another business buzzword that isn't so helpful in practice.
It is in fact a growing field with its own university courses, and an Organizational Effectiveness Consultant has become a role in its own right.
There are multiple benefits to achieving organizational effectiveness, such as increased efficiency in reaching goals and saving costs. Your business has the potential to become more attractive to employees, customers, and other stakeholders.
Keep reading for tips on how to improve organizational effectiveness and practical ways to measure it.
What is organizational effectiveness?
To outline the basics, organizational effectiveness is a concept that measures how efficient a company is at achieving its goals.
In order to be effective, organizations need to use resources efficiently, have a clear and attainable mission, be able to adapt to change, and have the right people in the right roles. Organizational effectiveness is achieved when these elements come together to help your business run smoothly.
How to build your organizational effectiveness strategy
What are some of the best organizational effectiveness approaches? As we mentioned before, there are several elements that contribute to organizational effectiveness.
For a business strategy that gives you a competitive advantage in a constantly changing market, try implementing these tips:
1. Focus on goals and objectives
Organizational effectiveness can be improved in many ways, but one of the most important is by ensuring that all employees are aware of the organization's goals and objectives. Employees need to understand what the organization is trying to accomplish in order to work towards those goals.
When everyone is on the same page and working towards the same goal, organizations are much more likely to be successful. A business with clear goals influences motivation and increases performance, from small startups to large franchises.
Here are some tips on setting business goals:
Be precise: Instead of paying the price of being vague - make your goals specific and go into the details. For example, give yourself goals with exact numbers on the forecast of sales and how you plan to obtain this.
Commit to the goals: Is the goal taking longer than expected? Don't quit—it's easy to feel the strain as deadlines loom, but stick to it and commit to the goals you've set.
Measure progress: Whether it's internal spreadsheets or customer satisfaction surveys, you need to keep track of your progress to ensure you're on top of the goal. Keep reading for more on how to measure progress in your business.
2. Streamline to save time with efficient processes
Improve organizational effectiveness by streamlining processes and removing unnecessary steps. Implement systems and procedures that allow your business to operate efficiently. These systems should be designed so that they can be easily understood and followed by employees.
This can help save time and resources, which can then be reinvested into other areas of the business. If your accounting department is spending too much time on tasks that could be automated, consider investing in accounting software. This would free up time for your employees so that they could focus on more important tasks.
Use the iLovePDF API for developers to integrate business systems with document management software. Integrating and automating document processes cuts out wasted time, allowing teams to work more productively.
These streamlined tools are also available online, on Desktop, and on Mobile devices. PDF tools are a practical way to be more efficient whenever you're dealing with documents, whatever the device. The tools are designed for productive solutions to the most common and time-consuming issues that face professionals working with PDFs.
On top of automating processes, follow these steps to streamline your workflows and boost productivity:
Assess the current workflows: Take a broad look at your processes to define and simplify them ready for the next steps.
Rank processes by importance: Make an ordered list of the most important processes so you can decide which ones to streamline first.
Prepare for adjustment: Workflows will require continuous refinement, so be patient and keep making changes based on the results of the processes.
3. The right people in the right roles
In order for an organization to function effectively, it needs to have employees who are skilled at their jobs and motivated to do their best work. Employees must understand their roles within the organization and know how their work fits into the bigger picture.
A Gallup study found that when employees were matched with their strengths, they were 8% more productive and 6% more satisfied with their jobs. Job rotation - or job sharing - is a way employees can try out different roles to find the one that matches their skills and interests.
Some tips to get the right employee in the right job:
Get to know the strengths and weaknesses of your team: When employees are assigned jobs that play to their strengths they are more likely to be effective in their roles, and more likely to be productive.
Proper training and development: Provide proper training and development by giving a team the tools and skills they need to do their jobs, and opportunities to learn and grow.
The right amount of responsibility: Too much responsibility can lead to stress and burnout, but too little responsibility may leave your team feeling unchallenged in their roles and unable to engage effectively, so aim for a balance.
4. Be ready to adapt and apply what's new
Organizational effectiveness strategies are one part of the jigsaw, but they must also be ready to adapt. This means being open to new ideas and new ways of doing things—a willingness to let go of the old methods and welcome the new ones. Being flexible and adaptable will help ensure that your organization remains effective as the world changes around it.
Studies show that work productivity thrives when there is a "cooperative effort" between leaders that are "flexible and adaptive as the situation changes" within an organization. Confident leaders contribute to long-term organizational effectiveness by setting an example to the team - helping them find a work-life balance and carrying out succession planning.
There are 3 types of adaptability skills you can work on to be ready to adapt:
Cognitive adaptability: Lets you think about scenarios and plan for future outcomes during decision-making.
Emotional adaptability: This skill allows you to connect with people by understanding the different personalities of your team.
Personality adaptability: Be open to accepting imperfections - seeing a situation for what it is, and looking for the opportunities in what it can become.
Measuring organizational performance in your business
Tracking the progress of organizational effectiveness in your business will lead to a high-performing team - and products and services you are proud of. There are some indicators that can help you to continuously improve:
Measure the amount of waste generated by your company: You can monitor what types of materials your company is buying, and how often.
Track how quickly the organization responds to customers: Use a customer service tool. Tools track how long it takes to reply to customers, as well as measuring customer satisfaction ratings.
See how often you make strategy changes: Track the number of changes made to a business plan, goals, or tactics. You can also track how long it takes to make changes and how successful those changes are.
Track employee satisfaction and customer loyalty: Conduct exit interviews with employees who are leaving the company, as well as surveys to gauge employee satisfaction. Customer loyalty can be tracked by customer satisfaction surveys and customer retention rates.
Use these tips and try our tools
Organizational effectiveness is essential for any business that wants to succeed. We hope that you've now got a better understanding of what it is, how it can help your business, and how you can take steps to improve it.
A well-functioning business will result in a better employee experience, quality employee engagement, and ultimately—customer satisfaction. Don't forget to keep measuring your organizational effectiveness with the advice above.
Our API for developers isn't the only thing that can help your business - so make sure you check out the rest of our productivity tools, and let us know which one has helped!
Discover how digital tools can help organizational effectiveness
Explore now
Safe in our hands
iLovePDF takes security very seriously. Remember that...
No matter which tool you are using, we use end-to-end encryption to ensure the highest protection against theft or interception of your documents.
Any document uploaded to our system is automatically deleted after 2 hours to prevent any unauthorized third-party access.
All our servers are secured under European legislation, one of the most restrictive in the world.